May 3rd, 2009
I'm just checking in here quick. Just a quick overview, we spent the day today at Pulilan where we celebrated the birthday of the husband's uncle and watched the live streaming of Pacquiao-Hatton fight. We were feasting over lunch (we think we need atro-phex to burn the extra fats deposited) while everyone was hanging on to their seats cheering for the Pacman. The match was so quick that we felt it's not worth the wait. But nevertheless, we all rejoiced because it is an exclamation point win over Hatton. No doubt, Pacquiao is truly the pound for pound king in the boxing arena. Mabuhay ka Manny Pacquiao!
Filed under
Flicks and Stars
|
Comment (0)
May 2nd, 2009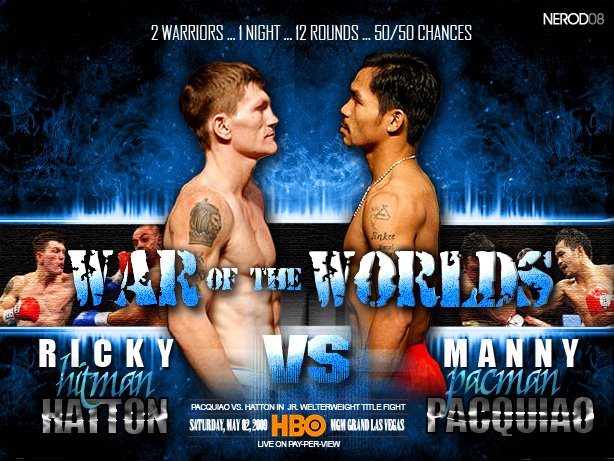 Photo grabbed from here.
My husband is and so is my FIL. It's their topic over lunch and dinner and perhaps, tomorrow's breakfast and lunch too!
Go Manny..bring home the bacon!
Filed under
Flicks and Stars
|
Comment (0)
April 26th, 2009
Since the internet connection here in my in laws' place is fairly speedy, I've been downloading movies from Symbianize (thanks Joy and Caryl for the reco) like crazy since yesterday morning.
And so in two days, here are the movies that I've downloaded and are lined up to be viewed this coming week (all extracted and running in good quality mp4 format):
1. Il Mare
2. When Love Begins
3. Caregiver
4. A Love Story
5. Ploning
6. Nights in Rodanthe
7. Fireproof
I was able to download Fireproof last night however, I can't seem to extract the files correctly.
Edited: I was able to download a ready mp4 format of Fireproof last Sunday night before we drove home to Makati. Strikeouts mean they were viewed already
Right now, I'll start to compile a list for another weekend download galore next week. Any suggestions?
Filed under
Flicks and Stars
|
Comments (4)