So here's what I've been busy and feeling nervous and excited about these past few weeks.  It used to be just a big dream but I'm so ecstatic that I'm realizing that dream in a few days!
Dainty Ashley will be joining its first ever bazaar and it'll be the Expo Mom!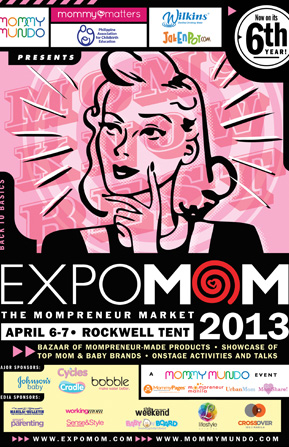 Expo Mom is not actually new to me since I've been an avid spectator/visitor/shopper/blogger of this event ever since.  But this time, I'll participate as an exhibitor.  Expo Mom is the biggest exposition for moms and moms-to-be featuring the latest products and services for moms, babies, kids, & families.  It brings the latest parenting trends on breastfeeding, baby wearing, cloth diapering and active parenting.
Expect lots of new collections and "heartmade" trinkets in our booth which I'll be sharing with a good friend and fellow craft enthusiast, Suzanne, the designer and great mind/hands behind The Claycraft Studio.  For more info about the event and a sneak peek of what to expect in our booth, visit this link: http://expomom.com/2013/03/expo-mom-featured-exhibitor-dainty-ashley/.